This is what coffee producer Nigatu Wase of Yirgacheffe, Ethiopia was facing in the growing season of 2019. He wondered if he could go on growing coffee and survive. It seemed like a no win situation for him – stay and starve or leave all he knew. But coffee had been his life for 38 years, and the life of his family and friends, and he loved it. So, he decided to take a risk. He talked with his family and friends, and fourteen of his coffee farming colleagues and, together they decided to leave their coffee co-op and go out on their own. It's important to understand that Nigatu and his friends are not big producers. They are growers with yields of about 4000 – 10,000 pounds per season. Because of the way the coffee market is structured in Ethiopia, producers of that size have no real opportunity to command a better price, no matter how high the quality of their coffee, unless they essentially become their own exporter and find buyers who are willing to work with them directly. Yet, despite the risk, they knew they had to get a better price than what the co-op and the commodity market offered.
Thankfully, one of Nigatu's friends knew of a coffee grader who worked for Keffa Coffee, a company that imports green coffee to the US. He talked with them and got them to come and cup their coffees. When they got their coffees on the cupping table, they realized they were producing something really special and invited Samuel "Sammie" Demisse, the owner of Keffa Coffee, to come meet Nigatu, and the rest of the farmers, to experience their coffee.
When Sammie arrived for the cupping, the farmers told the story of their dilemma. "This coffee is all we have," they lamented. "We have big families and we rely totally on our coffee for our livelihood. If we cannot sell this coffee for a profit, we are finished." Nigatu Wase put a sample of his coffee, a natural processed lot, on the cupping table. Sammie slurped. Immediately he knew it was something exceptional. A natural process coffee with complexity and nuance. "I'll buy this!" he said.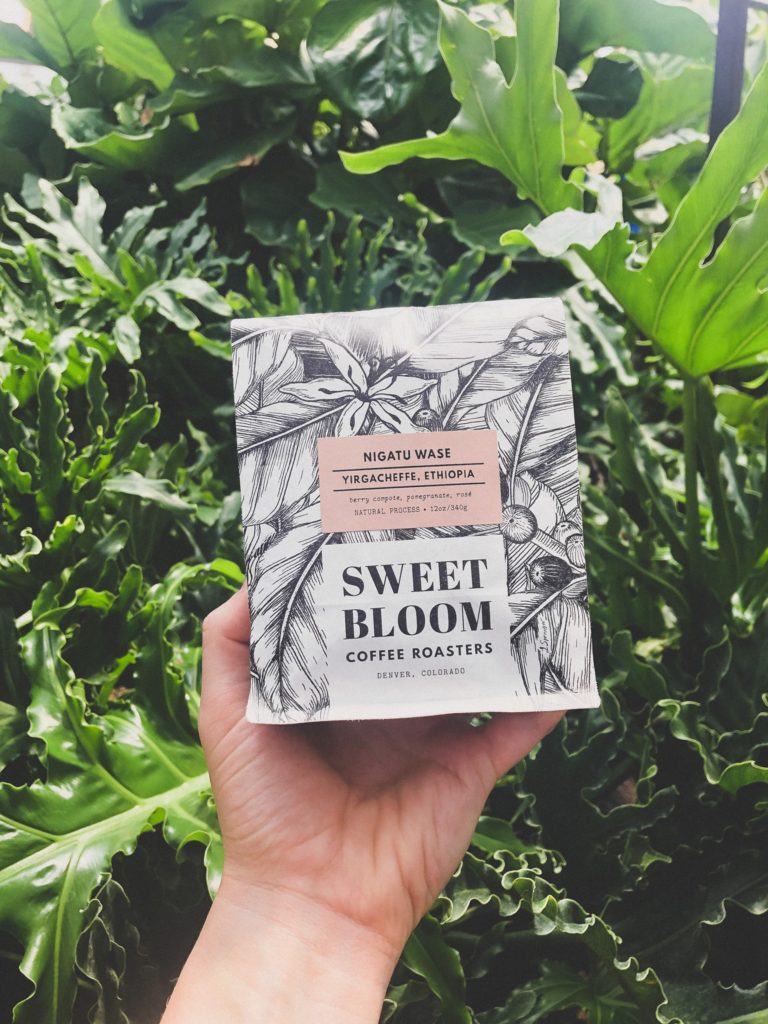 After returning to the US, Sammie called our very own Andy Sprenger, founder and co-owner of Sweet Bloom, and enthusiastically shared the opportunity to acquire Nigatu Wase's beautiful Yirgacheffe.
"The great thing about Andy," Sammie remarks, "is that he always asks about quality first, never about price." That's how Sweet Bloom approaches all coffee purchases.We look for the best coffees we can find and then try to roast them is a way that will bring out their best flavors and qualities. Sammie sent a sample. We roasted it and cupped it, and were immediately blown away. It was every bit as beautiful as Sammie claimed, so we purchased it and are humbled to be the only roasting company in the United States to carry Nigatu's coffee.
Our relationship with Nigatu doesn't end there though. This successful sale inspired Nigatu and his colleagues to strive to produce more and even higher quality coffee. They asked Keffa to help them build some raised beds for drying their coffee, in turn Keffa asked Sweet Bloom if we'd like to help. "Yes!" we said, "We are always eager to help the producers who supply us with great coffee." We hope to be able to visit soon to see how things are progressing and meet Nigatu and his family in person.
We love this coffee, and we know our success depends on growers like Nigatu finding success. We want our producers to be able to do well and provide for their families, just like we want for everyone in our Sweet Bloom community. We are proud to be bringing back Nigatu Wase for the second year, and to share it as an exclusive offering for our customers. We are grateful to be helping extend their success. We are overjoyed to welcome you back to another beautiful cup of coffee.